' BREEDING'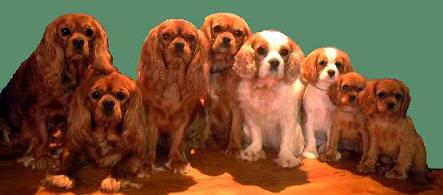 Breeding your Cavalier should never be taken lightly.
Some Cavaliers are sold with Main Register Pedigree Papers - however, this is still not an indication that you may have purchased a quality dog. Many dogs, although wonderful pets have defects of structure, personality or health problems which should not be perpetuated.
Before embarking on a litter it is recommended that both parents hold Clear Heart, Clear Eye, and Patella Clearances. Both parents should also be registered with their states controlling body on Main Registration .
There are 2 types of registration
Main and Limited.
(click above link for explanation on Main and Limited Registration)
I recommend also to visit a few Cavalier specialty shows (these are held in most states of Australia), and get as much advice as you possibly can. When using an outside stud ask for copies of the dogs health clearances. It also helps to have a mentor who has been in the breed for quite a considerable amount of time and who has an eye for a dog.
Mentors
(click above link for advice on Mentors)
And remember things do and will go wrong when breeding animals!!!!
Please Note: Very Graphic Photos Below
NOTE: These below deformities are not subject to any breeding lines as such, and happen in nature. I have published these pictures for educational purposes only to show breeding dogs is not a walk in the park or for the faint hearted. All these below stories are from non-related bitches, and the majority of these bitches who have had the below puppies have been placed into adoptive pet homes.
| | | |
| --- | --- | --- |
| MISSING PARTIAL LIMB | MIDLINE FAILURE | |
| | | |
| | | |
| | | |
| --- | --- | --- |
| SMALL BIRTH WEIGHTS | HARELIP & CLEFT PALATE | |
| | | |
| | | |
Im am sure over time there will be more photos to add here,
2 dogs mated together have many genes
with some recessively carried from many generations back.
We are not God and cannot decide the outcomes,
no matter how much we hope.

Music:
To Love Somebody - Bee Gees
© Braydnvale Cavaliers 2004